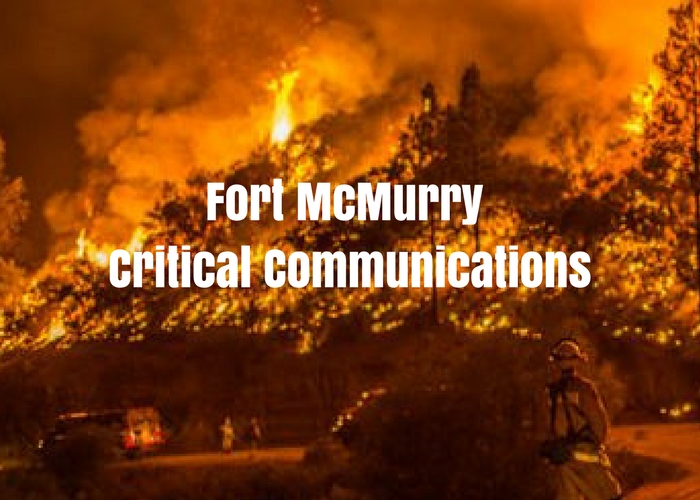 Muddled communications during Fort McMurray's wildfire caught officials off guard last year. A report by wildlife experts from B.C. and Alberta said the fight to save the city was hampered because regional and provincial authorities failed to share information in the earliest, most critical days.
The consultants interviewed 90 people including firefighters, staff and management from Alberta Agriculture and Forestry, and staff and management from the regional municipality. Also questioned were aviation contractors, representatives from the oil sands, and forest industries.
As we all know, the evacuation directly impacted 90,000 people. Not to mention hundreds of thousands more throughout Canada who also were affected by the shut down of oil sands plants.
Media reports said the operation's chief connection with the Regional Municipality of Wood Buffalo was through the deputy duty officer at the Fort McMurray forest area office. This meant that critical messaging was, "two or three steps removed from the operations chief on the Alberta Forestry side of the incident."
The consultants' report noted that the two fire authorities weren't even operating on the same radio frequencies. It also revealed the municipality had to learn from social media that the fire was entering their community.
Emergency Recommendations for Municipalities
Numerous reasons were cited in the analysis to establish a joint wildfire planning team made up of senior forestry staff and members of the oil sands, energy, forestry, and utility industries.
We also recommend adding chief information officers and clinicians to the team who speak to the need for a mobile device strategy. Fire fighters, health care professionals, and first responders need workflows that enable maximum benefit and coverage, especially when it comes to paging when cellular and Wi-Fi communications can fail.
Where is an organization at risk?
Immediate notification prevents problems from developing and impacting the community involved with a disaster. Here are three points to remember when it comes to risk.
Have you developed a Critical Messaging strategy that is integrated into the broader municipal plan?
Do you have a database of your first responders, emergency personnel, municipal authorities, even patients in elder care homes and patients in hospitals? We're talking about email address, mobile phone number, home address, phone number. If yes, how secure is this database?
Does your organization communicate confidential information via email? If so, how secure it your email service provider and are your employees required to change their passwords regularly?
Do you know the location and serial numbers of your pagers, smart phones, and tablets? Do these mobile devices contain email and other apps that are used for and at work? Do your employees now how to keep their mobile devices safe and secure?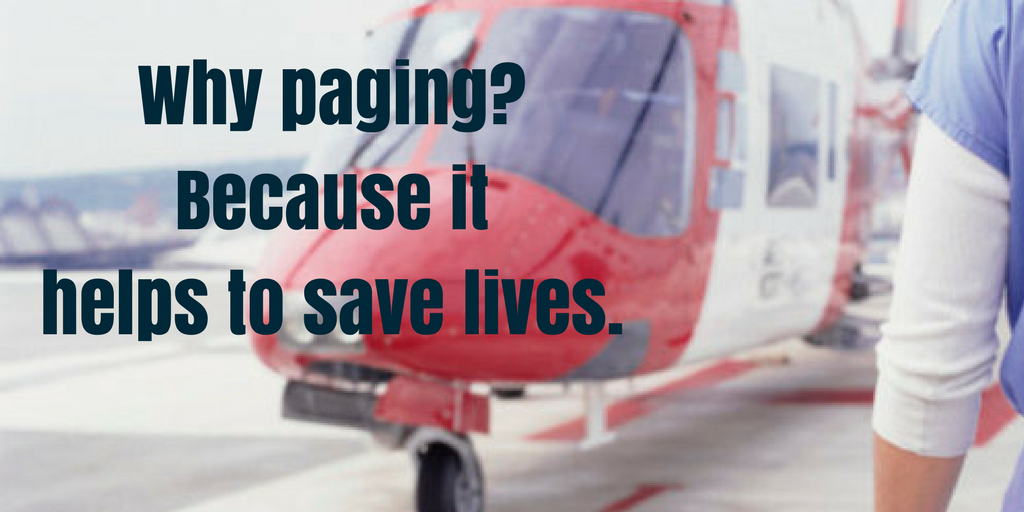 Two types of paging
There are two different types of paging: limited range and wide-area.
Limited-range paging sends messages over a relatively small area using a low-powered transmitter. It's perfect for sending emergency messages to members of a fire hall, for example.
On the other hand, wide-area paging is more like radio broadcasting. A system of radio transmitters sends pager messages across a region, even the entire province. In Greater Edmonton, for example, Citipage has 17 transmitters in these places:
Fort Saskatchewan Hospital
Walter MacKenzie, University of Alberta
Edmonton Clinic
Glenrose Hospital
Grey Nuns hospital
Sturgeon Hospital in St. Albert
The key is that pager messages are broadcast from multiple towers at the same time. If one transmitter tower stopped working, an adjacent tower's signal would fill in which increases reliability. Paging systems can use "one-to-many" coding technology that makes it easy to send group messages that are received by all intended pagers instantaneously.
How do pagers compare with cellphones?
Pagers are not meant to compete with mobile phones; they have a very different purpose. Pagers receive quick, instant messages—and, for this reason, they're often much more efficient than phones. Two-way pagers, by the way, were designed in 1995 by Motorola ReFlex; trade name, Tango.
Why do we still believe in paging? Because these devices deployed within a Critical Messaging strategy help to save lives. They are powerful – given the ability to send a VHF (very high frequency) radio signal, typically broadcast in the range 138–466 MHz (like normal FM radio programs).
Using high-frequency radio means the signals reach further, need fewer transmitters, and suffer less from interfering obstacles than cellphone signals.
Disaster workers are much more likely to receive a pager message in a remote area than a cellphone call or text message, where they may not even pick up a signal. That's why pagers are often used by mountain rescue teams, emergency workers, and lifeboat crews.
Unlike cellphone SMS text messages, wide-area pager messages are typically broadcast and received within 30 seconds. Messages sent over local paging networks, such as those operated by hospitals for their doctors, can be sent and received within five seconds.
Yes, smart phones have their place in the emergency ecosystem, as well. But we are constantly reminded that cell phone users sometimes receive messages hours – and even days – after a message was sent during times of congested signal traffic.
Paging with broad coverage includes reminder alerts, personal alarms, and duplicate messages that contain the latest timestamp to prevent a repeated message from taking an extra memory slot.
We encourage all municipalities to develop a Critical Messaging strategy that includes pagers and other relevant mobile devices within their disaster plans.