Good healthcare leaders always impress me. They are independent thinkers who understand the evolution of medicine and they are passionate about serving the needs of patients.
This type of professional starts by focusing on people, not a walking list of symptoms. Legendary management consultant Peter Drucker once said, "Management is doing things right; leadership is doing the right things." For hospital personnel, this means delivering the best solution to a hospital's competitive challenges through evidence-based results.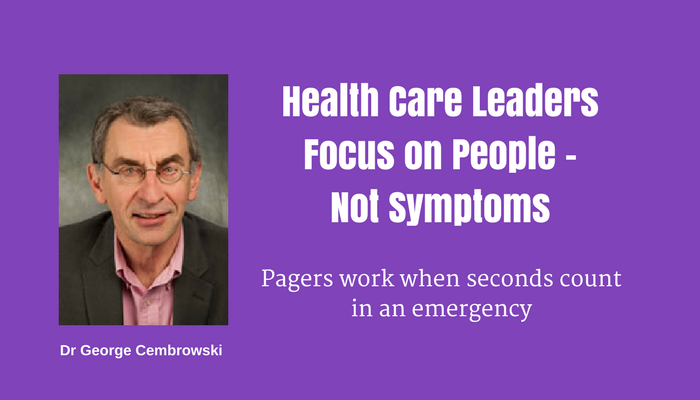 I recently had lunch with the Director of Medical Biochemistry for the University of Alberta. Dr. George Cembrowski is keen on quality control in the lab and believes in ways to efficiently care for the patient while controlling costs for the healthcare system. Dr. Cembrowski is the author of Laboratory Quality Management and is often invited to address medical symposiums around the world.
We talked about the efficiency of healthcare in Canada and the United States. He believes the escalating cost of medicine can be reduced with better analysis of big data originating in the laboratory. The need for ongoing education was a central theme for our dinner chat and I told him about the work we're dong with pagers in Western Canada.
Did he have a pager?
"I love my pager!" enthused Dr. Cembrowski as he pulled aside his coat to reveal a pager clipped to his belt. "Even when I am in the underground parking lot, the page reaches me so that I am always prepared for my next visit." His pager had the name of our brand on it: Medipage. "Many of my associates use them, too."
Dr. Cembrowski added that while he has a smartphone and likes the functionality it offers in his day-to-day workflows, he never goes without his pager. "I trust it," he said. "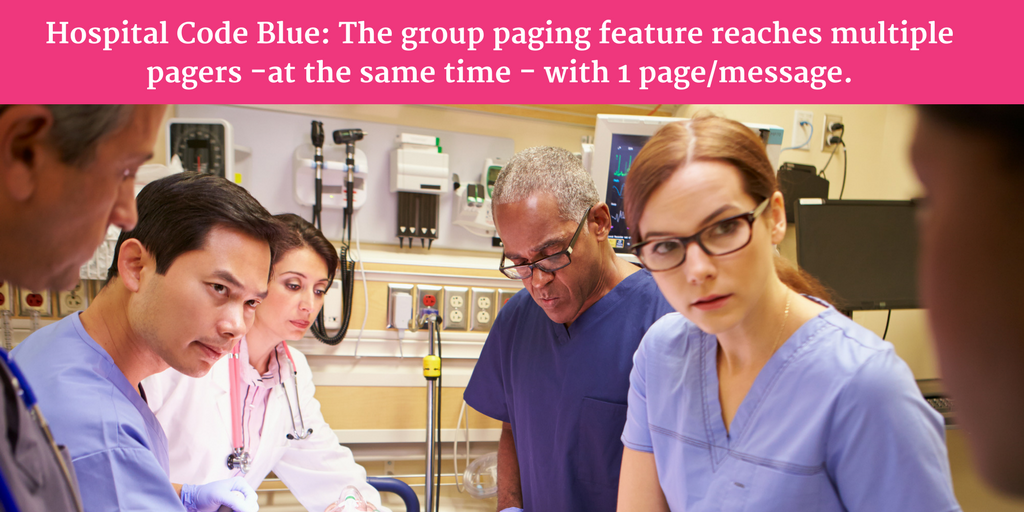 There's much to love about pagers in hospital settings today. Besides the reliability, there's the ability to be discreet since they're smaller and quieter than a smartphone. Phones alert for anything and everything, even when things aren't urgent. Pagers generally are used when seconds count in an emergency.
Here are 12 reasons for carrying a pager, some of which might surprise you.
Reliability
They are more dependable than smartphones that need cellular service or even Wi-Fi coverage. The pager itself is simple and durable. Plus, they are not subject to the same congestion as consumer cellular networks where everyone is competing for the same bandwidth.

Trust
Encryption capabilities are integral for many pager users, so patients' healthcare information is protected. You can trust your pager to keep your message exchange private.
Independent networks
Pagers don't rely on the same transmitters used by mobile networks, instead they operate with stronger transmitters that are able to send signals much further. If a cell phone network goes down, such as during natural disasters, it is critical for reliable communication to remain. It's the reason that first responders such as fire departments rely heavily on pagers.
Group communication
Pagers allow users to send the same message to multiple people at the same time. Think of a hospital Code Blue when the emergency alert needs to concurrently reach 20 team members. The cardio patient depends on the speed, ease, and reliability of this process which is much greater than the same method for smart phones.
Secure messages
More secure than mobile phone messaging, pagers provide hospitals, security companies, and doctor offices a secure platform to communicate with staff. Permission levels are based on an authenticated login.
Long life
Ever run out of power at the end of the day for your smartphone? Pagers don't need to be plugged into electricity to charge. If the power is out and a mobile phone dies there's nothing you can do in the case of an emergency.  With most pagers only requiring one AA battery they're designed to last significantly longer than your phone battery.
Budget friendly
A mobile phone plan can be costly to manage. Imagine the annual feed that hospitals are spending per person to send patient records. Instead, paging service contracts will often cost the same for one year as smartphone contracts cost for one month, making pagers much more cost effective.
Smashed screen
Ever dropped your mobile phone, even by accident? Then you know how expensive it is to repair a cracked lens, broken button, or damage from water. Pagers are a tough case.
Easy to use
Quick now. Which icon do you tap when an emergency happens from the many different ones possible. Pagers are not complicated, therefore easy to activate with minimal installation.
Privacy
It's entirely possible to overhear a conversation on someone's smartphone, even if you don't want to hear the conversation. It's also reasonably easy to glance over to see a message on one of those 5" mobile phone screens. Not so private. Pagers make it possible to receive and read a message without others seeing.
Integration
Messages can be delivered to individuals or groups by sending to pagers, cell phones, smart phones, e-mail, and other devices. Recurring messages and reminders can be received daily, weekly, monthly, or annually.
Mature Technology
Yes, pagers were developed post WW2 in London to alert doctors who needed to attend an emergency immediately. The technology has been enhanced ever since. Pagers have eliminated glitches and bugs in the process.
24/7 Equipment Replacement
Most of the paging companies provide 24/7 equipment replacement which is not the case with cellphone companies.
Pagers may not be as glamorous as your smartphone but you can trust them times of emergency.
* Medipage is the trademark brand that Citipage Ltd. uses for employees with Alberta Health Services.